Post-Russia: Europe's Energy Alternatives, Realistically Viewed
Ten Facts: Breaking dependence on Russian energy is easier said than done
March 21, 2014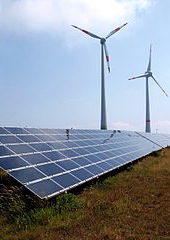 German wind/solar energy park. (Credit: Armin Kübelbeck - Wikimedia)
1. Nearly 40% of Germany's gas comes from Russia. (Norway supplies 35% and the Netherlands another 22%.)
2. As for Russia, 70% of Russia's exports to Germany, its third-largest trading partner, are in the form of hydrocarbons.
3. It may be difficult to get out of the relationship. Most of the German-Russian gas and oil contracts are long-term contracts with durations of 15 to 25 years.
4. Nuclear power is not automatically more secure either. Currently, 30% of the uranium used as fuel in the EU's nuclear power plants is imported from Russia.
5. Coal presents problems too. Both Poland and Germany, the two biggest consumers of coal in the EU, import significant amounts of coal from Russia.
6. In 2010, 27% of the EU's imported hard coal came from Russia.
7. Russia accounts for just under 30% of Germany's coal imports, second only to Colombia as a source.
8. In Poland, coal generates 92% of its electricity and 89% of its heat. Germany generates 45% of its power with coal. (That figure has crept upwards recently.)
9. According to the German Energy Agency, by 2020 energy efficiency measures could cut Germany's heating energy consumption by 16%.
10. The German Energy Agency estimates that by 2050, Germany could reduce its heat consumption in residential buildings by 60%. Renewables could cover another 20% of consumption.
From Germany Needs More Energiewende to Lessen Dependence on Russia by Paul Hockenos (coming soon in The Globalist)
More on this topic