Potatoes: Not Just Chipper Tubers
A short global history of the potato plus a recipe for an exceptional potato salad
April 9, 2022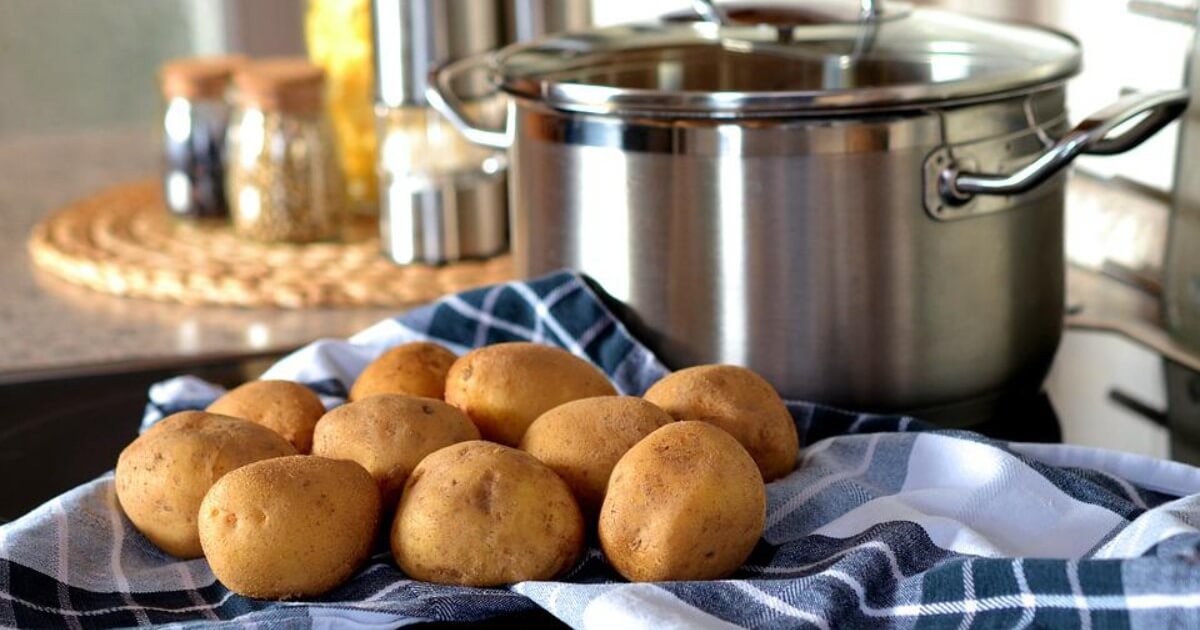 The new season's potatoes are coming in. There is hardly a more seductive cheap treat than tiny fingerlings, whether they are called Jersey Royals, or new Yukon Golds or Rattes.
Boiled or steamed, put good-quality cold butter over them, and add a ferocious grinding of black pepper.
The potato shouldn't be denigrated or denied the respect it merits. It is a vegetable with a remarkably sophisticated history.
Originally from South America
Cultivation of the tuber may have begun 10,000 years ago in South America. However, since no actual analyzable residua have been found that far back, this is conjecture. We only have artistic references to it, in the shape of pottery vessels.
The earliest actual remains date to 2500 BC, at Ancón in Peru. But it is believed the potato's domestication began there and in Bolivia between 8000 and 5000 BC, quickly becoming the principal source of food energy for the Inca Empire.
Then from the Canary Islands to Belgium
Evidence of the potato's first formal arrival in Europe is a receipt for a delivery from Las Palmas in the Canary Islands to Antwerp, dated 28 November 1567.
The second, its more casual entry to the British Isles, appears between 1588 and 1593 in the baggage of sailors, along with plundered silver and other precious souvenirs.
And from Basque Country to Ireland and France
It was fishermen from the Basque country in Spain, supplied with potatoes for their voyages across the Atlantic in the 16th century, who introduced the tuber to western Ireland where they dropped anchor to dry their cod.
By the end of the 16th century, the potato was growing widely across Northern France. In his 1774 Examen chymique des pommes de terres ("Chemical examination of potatoes"), French physician Antoine Parmentier, who gave his name to the most delicious, thick potato and leek soup, proved the potato's huge nutritious value.
Let them eat potatoes!
King Louis XVI and his court fell for the new vegetable and promoted it enthusiastically, with Queen Marie Antoinette even wearing a headdress of potato flowers at a fancy-dress ball.
By 1815, France's annual potato crop soared to 21 million hectoliters (1 hectoliter = 100 liters/175 pints), almost quintupling to 117 million in 1840.
The potato takes over Ireland
With the explosion by 1845 of the population in Ireland, the planting of potatoes took up one-third of the land. They became a popular replacement there for turnip and rutabaga, Ireland's previous cheap stomach fillers, as they did among the poor across the Continent. Another advantage of potatoes was their lower rate of spoilage.
There are almost as many varieties of potato as there are varieties within the large family of legumes, with different types good for different jobs.
Recipe for Potato Salad
This recipe makes the most of the humble potato salad, eaten indoors or out. It's particularly delicious with smoked mackerel and slices of Scandinavian or German rye bread.
800g/28oz fingerling potatoes (Jersey Royals, Charlotte, Anya, Yukon Gold potatoes, or other waxy variety), scrubbed but not peeled 2 teaspoons wholegrain mustard 2 tablespoons muscatel or white wine vinegar 4 tablespoons olive oil 1 shallot, very finely chopped 3 tablespoons mayonnaise 2 tablespoons each of finely chopped fresh tarragon and parsley 2 tablespoons sour cream 1 tablespoon horseradish sauce Juice of ¼ lemon 2 spring onions/scallions, finely sliced on the diagonal Optional, but certainly not necessary as the fresh herbs provide so much flavor, are 6 slices of bacon, fried till crisp, drained on paper then crumbled
Boil the potatoes in a large pan of cold salted water and simmer until tender, about 10 minutes.
Whisk the mustard, vinegar, olive oil and chopped shallot together with a good pinch of salt and a grind of pepper. When the potatoes are cool enough to handle, peel if you wish, then halve, quarter or cut them into bite-sized chunks if large. Toss thoroughly in the mustard dressing until completely coated. Leave to cool completely.
Mix together the mayonnaise, chopped herbs, sour cream, horseradish and lemon juice. Once the potatoes are cool, toss them thoroughly in the mayonnaise mixture along with the spring onions/scallion
More on this topic