Putin and Erdogan: Two Men Race to the Bottom
Russia's and Turkey's lack of a solid economic performance is what motivates their two leaders' steady resorting to domestic oppression.
March 3, 2021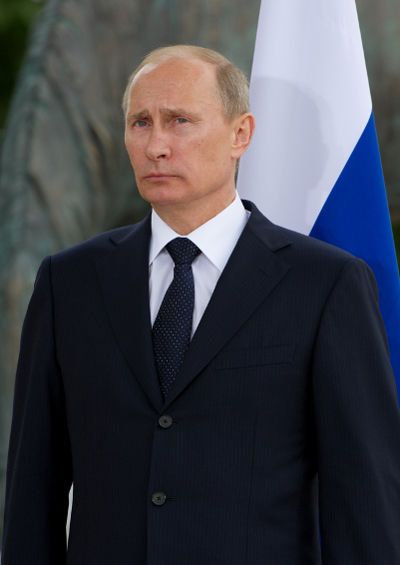 Vladimir Putin (Credit: Frederic Legrand - Shutterstock.com)
The ongoing plight of Kremlin critic Alexei Navalny and his supporters has demonstrated yet again the brutality of Russian President Vladimir Putin's iron-fisted rule.
Weeks of pro-Navalny rallies from Moscow to Vladivostok left some 11,000 protesters, many badly beaten, detained across the country. And sent Navalny to Penal Colony No. 2 — known for its abusive treatment of inmates.
Two autocrats and their batons
Meanwhile, across the Black Sea, Putin's soulmate, Turkish President Recep Tayyip Erdogan, has engaged in a crackdown against students protesting his appointment of an unqualified crony with a history of plagiarism as the rector of Istanbul's top public university.
Erdogan is desperately trying to divert the Turkish public's attention away from the country's crippling economic crisis and rampant unemployment.
Racing to the bottom of the Democracy Index
Nothing demonstrates Putin and Erdogan's race down to the bottom better than the Democracy Index. Russia currently ranks in 124th place among the 167 countries tracked by The Economist Intelligence Unit in its annual survey. It lists Russia as an "authoritarian regime."
Turkey ranks 104th, catagorized by the index as a "hybrid regime" — a type defined by substantial election irregularities and government pressure on the opposition. That is by far the lowest ranking of any NATO country, with Montenegro (in 81th place) the next worst.
Turkey's democratic traditions
When compared to Russia, Turkey has had a much longer and deeper experience with multi-party democracy and civil society activism. For example, during the 1970s, while internal repression was growing in the Soviet Union, Turkey had some 45,000 civil society organizations.
Following the crackdown brought on by the 1980 coup d'état, the number of Turkish NGOs tripled again within two decades. A new generation of associations flourished, advocating a wide spectrum of issues ranging from minority rights to gender rights.
It speaks to the resilience and vitality of Turkey's civil society that Turkish political parties, labor unions, civic associations and media outlets managed to bounce back in the past — even after military regimes or authoritarian leaders had shuttered them.
Erdogan's oppression machine
While always claiming to have been the victim of a military coup, Erdogan — much like Putin — is hyper-busy jailing anybody whom he deems any kind of threat to his increasingly despotic rule.
Turkey's Peoples' Democratic Party (HDP), the latest incarnation of a long line of pro-Kurdish parties, is one such target. Purely at Erdogan's whim, the increasingly popular, personally appealing and politically skilled former HDP co-leader and presidential candidate Selahattin Demirtas has been in prison since 2016. He could be sentenced to 142 years. Meanwhile, he continues to fight from his cell via tweets, letters and books.
The one difference between Erdogan and Putin
The one thing that Erdogan can argue in his own favor is that he stays away from Putin's signature use of nerve agents and radioactive isotopes to eliminate dissidents.
However, the Turkish president has perfected non-lethal strategies to stymie his opponents. To see how that works, consider the fate of Turkey's leading philanthropist and minority rights activist, Osman Kavala.
A personal target of Erdogan's, Kavala has been rotting in solitary confinement at the maximum-security Silivri prison on the outskirts of Istanbul for over three years.
It's all about running away from the economy
Ultimately, Russia's and Turkey's lack of a solid economic performance is what motivates their two leaders' steady resorting to domestic oppression.
Russia remains a rentier state with an economy heavily dependent on hydrocarbons. According to the OECD, the share of oil and gas revenues approached 40% of Russia's GDP in 2018 — and fossil fuels constitute over 60% of exports.
Putin's abuses
And even though Putin has built a rainy-day fund worth nearly $570 billion in gold and foreign exchange to isolate his regime from external shocks and pressure, outside the glitziness of Moscow's skyscrapers, Putin has not managed to improve the economic lot of everyday Russians one bit.
For that, the daily pilfering of Russia's riches by Putin's cronies just takes too large a bite out of the economic apple.
Erdogan's self-defeatism
Erdogan's misfortune – and, ironically Turkey's fortune — is that the country is not blessed by fossil fuel reserves. Turkey imports 92% of its crude oil, 99% of its natural gas and 40% of its coal.
Given its dearth of raw material riches, Turkish governments traditionally rely on taxation and on capital inflows from the West. In that regard, Erdogan is cutting off his own legs — as foreign investors tend to shy away from countries ruthlessly ruled by autocrats.
As Turkey approaches its next big elections — to be held by 2023 — the country remains at a tipping point.
If Erdogan — despite the lowest support for his party since 2002 in public opinion surveys — ultimately manages to rob the opposition bloc of its likely election victory, the West will have to make up its mind.
Neither the United States nor the European Union can afford to lose more time and energy by repeating appeasement strategies that have failed them too many times.
One thing is for sure: An effective push against Putin also requires reaching out to Turkey's pro-democracy forces. The clock is ticking on that.
More on this topic