Turkey: Europe Out, Middle East In
As the primary source of tourists visiting Turkey shifts from Europe to the Middle East, a 150 year-long era comes to a close.
November 14, 2017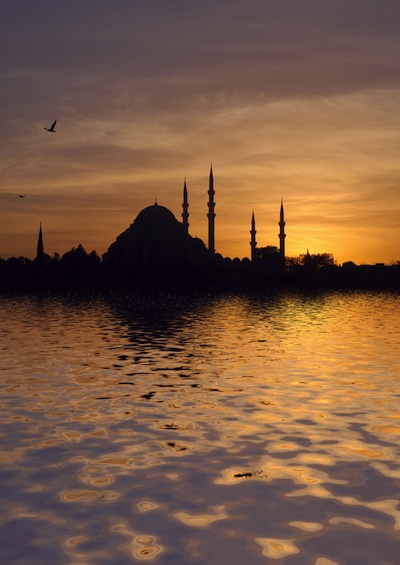 Suleymaniye mosque in Istanbul, Turkey (Credit: Vladimir Wrangel) Shutterstock.com
Tourism is a major part of Turkey's economy, generating an estimated $35 billion in annual revenues. In 2014, nearly 37 million tourists made trips there, making Turkey the sixth most visited country in the world — not to mention the most visited Muslim-majority country.
A cultural bridge no more
Over the past few decades, it was mostly Europeans who traveled to Turkey, accounting for over half of Turkey's tourist visitors.
In a country where less than 15% of the population holds a passport, this provided an important cultural bridge — exposing many Europeans to Turkey, while also exposing Turks to European values.
Yet, recent trends show that this bridge may be eroding. With the spate of terrorist attacks, diplomatic rifts and the July 2016 coup attempt, Turkey's appeal as a destination for Europeans has gone down significantly.
Last year, the number of visitors from traditional sources of visitors such as Germany and England plummeted. Overall tourist numbers dropped to just 25 million.
End of a long tradition
Although 2017 data indicate that the industry is recovering from that sharp drop, the longer-term trends point to a shift in the composition of tourists coming to Turkey. European tourists are swiftly being replaced by visitors from Middle Eastern countries. That has deep cultural and political ramifications.
Ever since the iconic Orient Express began service from Paris to Istanbul in 1883, Westerners have enjoyed traveling to Turkey. The Turkish republic's first government tourism office was established under the Ministry of Economics in 1934, and a standalone Ministry of Tourism was created in 1963 to cater to the growing influx of Europeans.
The largest boom occurred during the 1980s, due in large part to Prime Minister Turgut Ozal's policy of opening the economy to international investment. Beach tourism in particular took off — a natural outcome considering the country's 800 miles of coastline.
Britons, Dutch, Germans and other northern and western Europeans began vacationing on Turkey's Aegean and Mediterranean coasts in droves. That shift helped push the country from the world's 52nd most popular tourist destination in 1980 (with around one million foreign visitors per year) to 19th by 1997 (with nearly 10 million).
The upward trend continued after the Justice and Development Party (AKP) came to power in 2002. Turkey became one of the world's top-ten tourism destinations, receiving over one million visitors each from nations such as Germany, England, Russia and the Netherlands.
Back then, two-thirds of tourists coming to Turkey came from OECD nations, while the Commonwealth of Independent States (CIS) — an organization consisting of former Soviet countries — accounted for 12.5%. Despite their proximity to Turkey, Middle Eastern countries comprised only 4.71% of tourists visiting the country.
Europeans out, Middle Easterners in
While previous Turkish governments largely ignored Muslim-majority countries as tourism sources for Turkey, the AKP has courted them with aggressive outreach campaigns that spurred most of this regional increase.
Tourist numbers from countries such as Georgia, Ukraine, Afghanistan, Bahrain, Palestine, Israel, Saudi Arabia and Jordan grew by at least 15% from 2015 to 2016.
Put another way, the diplomatic and safety concerns that slowed tourism from much of the rest of the world did not deter visitors from Middle Eastern and former Soviet countries.
Even the number of tourists from Russia itself began to increase again once Ankara and Moscow reached a rapprochement over the shootdown incident.
Looking ahead, as a deep political crisis unfolds in Turkey and instability continues to rise, Ankara's tensions with European governments will likely dissuade European tourists from visiting in the numbers they once did, at least for the foreseeable future.
The social dimension
Beyond the economic dimension, this has important social ramifications as well. On an evening stroll down Istanbul's Istiklal Street, long a symbol of the city's cosmopolitan identity, it is now rare to overhear conversations in languages besides Arabic and Turkish.
In past years, a wider mix of Turkish, English and many European languages was the norm. Similarly, many shop signs are now written in Arabic.
And bars, art galleries and cultural venues once filled with intermingling European tourists and Turks have been replaced by vendors more likely to appeal to Middle Easterners (e.g., caftan shops, hookah lounges).
The generational impact of this shift could be particularly powerful because only around 11% of Turks travel abroad. Even at its peak in 2015, the number of Turkish tourists who traveled internationally was less than 9 million out of a population of almost 80 million.
Under those circumstances, many Turks get their only direct exposure to the outside world from interactions with tourists. In past decades, such interactions introduced them to European cultures and values. Now, most of the people they meet hail from Middle Eastern and former Soviet countries.
Editor's note: This article was written by Soner Cagaptay along with Oya Aktas, an Yvonne Silverman Research Assistant at The Washington Institute and Akin Yucel, a B.A. candidate in political science and economics at the University of Virginia and an intern at the Institute.
More on this topic