"Blow-Up" at 40
What is the enduring significance of the classic sixties British film "Blow-Up"?
March 26, 2007
What is the enduring significance of the classic sixties British film "Blow-Up"?
LONDON — It's now 40 years since the British cinematic release of Blow-Up, Italian director Michelangelo Antonioni's cult film classic. As the movie hits middle age, it still intrigues with every viewing.
What's more, visitors to London — whether aficionados of the film or not — can still see the principal filming locations almost completely unchanged. For now.
Blow-Up is a famed hodgepodge of a film, drinking in the changing social mores of London's 1960's hedonistic scene, while drawing on older themes of perception, reality and loss. The cast oozes youthful rebellion.
Leading British actor David Hemmings, who later directed the 1980s A-Team TV series and appeared in Gladiator before his death in 2003, plays Thomas, a successful but cynical fashion photographer.
In the film, his snatched camera shots of co-star Vanessa Redgrave in a lovers' clinch — in a London park — may or may not reveal murder.
The negatives, blown up, suggest an espionage-style hit on Redgrave's paramour by an accomplice. But appearance may not be reality. As these themes are explored, director Antonioni captures London's late 1960's atmosphere perfectly.
Now 95, wheelchair-bound Antonioni remains the doyen of impressionistic Italian cinema. In two London-shot films — the other was The Passenger with Jack Nicholson (1975) — he worked with legendary film producer Carlo Ponti (who died on January 9, 2007) to capture swinging London as the epitome of cool.
Antonioni brought an invaluable external perspective to the capital. London was changing rapidly. Bomb-damaged Victorian architecture was being replaced by cheap but trendy glass and steel tower blocks. And as filming progressed during 1966, so did the hippie counter-culture.
Antonioni saw a city — and a value system — morphing in uneasy transition. In the film, uniformed park attendants are contrasted with the urgent new chords of the 'happening' Yardbirds pop group and baby boomers tripping in flared trousers.
With Blow-Up, Antonioni showed his persistent obsession as director to manipulate images and reality. For the park scenes, the director didn't like the "reality" of nature — so he spray-painted the trees and paths to gain the desired effect.
Likewise, check out the mesmerising scenes when Hemmings is unsure what exactly he's enlarging in the dark room and the none-too subtle photographic seduction of that red-hot, size zero 1960's model Verushka.
But what makes Blow-Up really special is its fascination with allegory. Bored photographer takes pictures. The enlarged negatives may reveal both murderer and a corpse. Returning to the scene, said paparazzo finds a corpse — which later disappears.
Might it have existed only in his imagination? Does this corpse actually indicate the death of London's past? The possibilities are endless. In other words, a film student's dream case study.
The film was shot in several London locations that are easily accessible to visitors. Among these, an achingly trendy restaurant at Blacklands Terrace, just off the King's Road Chelsea.
Hemmings' studio is split between Princes Place, Notting Hill and Pottery Lane, Holland Park — and the film opens at Economist Plaza, Piccadilly.
The spell-binding park scenes were filmed in Maryon Park, Woolwich, hard by the River Thames Barrier (the nearest Tube station is North Greenwich).
Antonioni picked up on the wind-blown atmosphere of this quiet Victorian Park, in an area which had been badly bombed in the London Blitz.
Try and get there in early afternoon. Walk up the slight hill — and take in the film's prime location. The tennis courts where the freakish 1960's ensemble mime return serves in an invisible tennis match — reality and perception again — remain exactly as in 1967.
In this 40th anniversary year, Blow-Up has lost none of its imaginative power, retro-feel or ability to seduce right from the first frames. Imprinted on the collective consciousness of a generation, the film is now a slice of cultural history, itself a negative to be enlarged and analyzed for decades to come.
Antonioni did get his Oscar in the end — for lifetime achievement in 1995. And German model Verushka is still turning heads — she's just appeared in the latest James Bond film, Casino Royale.
If you want to explore Antonioni's London vision, the locations are waiting. Only be sure to visit them soon before someone markets them to banality.
More on this topic
Read previous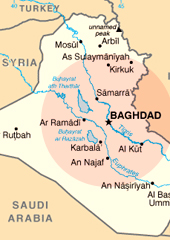 The POP (Public Opinion Poll) Superpower
March 23, 2007