Ecotourism in Yunnan (Part IV)
How has our correspondent's journey through the Chinese wilderness caused her to view the country differently?
December 27, 2007
How has our correspondent's journey through the Chinese wilderness caused her to view the country differently?
After lunch, we head up into the mountain pasture. At first, I am somewhat turned off by the uninspiring expanse of shrubs and grasses. But as we climb and reach a viewpoint, my opinion quickly changes.
From the clearing, I can see for miles and miles over the Laojunshan mountain range — endless peaks and sharp boulders jutting into the sky, earth crumpled by the meeting of the Indian and Chinese continents.
Hiking through these breathtaking landscapes, I understand why Yunnan, the land "south of the clouds," has such a reputation for natural beauty.
We share our path with mountain goats and cows whose healthy appearance make me think that they are reaping the benefits of the natural bounty more effectively than their human keepers.
We leave the alpine grasslands for a forest of rhododendrons and conifers, trekking along steep cliffs and jagged rocks and then finally entering into a bamboo forest as the sky begins to darken. It is magic to be able to hike long enough to experience the transitions between microclimates and their accompanying vegetation.
Each half hour or so provides new plants to examine and new views to enjoy.
Today's hike is one of the most challenging for me physically. I wake in the morning feeling sick — sore throat, headache, weak muscles, sunburned nose and toes, my knee weak from the heavy downhill of the previous day. By lunchtime, I am ready to crawl into bed, not to climb a mountain.
To add to the punishment, today's path, though shorter than those of the previous two days, is extremely challenging. First we walk along narrow, single-file paths while facing heavy winds in the unprotected mountain pastureland.
Once we get down out of the wind and into the rhododendron forest, we find ourselves climbing steep rock formations with little or no path at all.
Down and down we hike, gripping rocks and branches to keep from slipping down the slopes. It takes us over five hours to cover only nine kilometers.
But in my newfound love for outdoor adventure, I keep my spirits up, and the more we hike, the better I begin to feel. By the time we reach the bamboo forests surrounding our campsite, I feel light and full of energy. The next morning I feel better than I have over any of the past three mornings.
This mountain is literally breathing life into me — strengthening my muscles and expanding my lungs.

My favorite moment from the arduous day is during the final two kilometers of the hike.
I am walking with the woman from The Nature Conservancy who has been my tent-mate for the past couple nights, when suddenly a porter breaks out into song and we spontaneously sing along — the Lisu words stumbling over our unpracticed tongues.
I completely forget about my knee and my fatigue. We sing and we sing, down the rocks, through the bamboo and into the camp clearing just as night is really starting to fall at 8 p.m.
After setting up our sleeping bags, we have a feast of vegetables, soup and rice with copious toasts of baijiu, Chinese white lightning, and blessing everyone and everything in sight in the spirit of triumph.
I greatly disappoint the group by not downing my entire bowl of baijiu when our side of the table calls for ganbei (bottoms up). I accept the label of haixiu de laowai, "reserved foreigner," and let others help me finish the rest.
After dinner, we gather around the fire and sing songs and tell stories and jokes. The porters join us, filling the night air with their beautiful Lisu songs. It is wonderful to share more of their world.
They have been such diligent servers and cooks and carriers over the past three days, showing us their homeland with such patience, always so positive and eager to impress.
I find myself appreciating the fluidity of their interactions with the "mainstream" Chinese in the group.
As I watch their glowing faces around the fire, I see not a group of impoverished minority people who need to be integrated into mainstream Han Chinese society, but a group of strong and competent young men and women, proud of their way of life and their culture, confident in their knowledge of the land.
I reflect that this work of guiding fully validates their way of life in a globalized economy that increasingly values English speakers and computer know-how.
We go around in a circle, each singing a song for the group — Mandarin, Cantonese, Lisu, English, even a couple of Spanish songs. It is an exchange of cultures beyond my usual "white girl with Chinese" as we talk and sing, joke and dance around the fire, late into the night.
This is one of the things that I have loved about Yunnan from my first trip here last fall — the ability to witness China as a multiplicity of cultures, languages and histories.
The next morning I am one of the first to wake up. I sit around the fire with a few other early-risers, sipping green tea and roasting potatoes. At 7:30 a.m., the sky is overcast — but I can see blue patches in the weak spots of the clouds.
We are in the middle of a bamboo forest in a camp constructed by the ecotourism cooperative.
This morning's gentle ten-kilometer hike takes us up out of the camp valley, across several mountains and down into a soft winding river valley lined with bamboo forests. The bright morning sun streams through the tall bamboo, dappling the soft moss-covered forest floor and bouncing off the deep red stones and sand of the riverbed.
The landscape takes on the air of a fairytale land.
I'm sitting now by the side of a road after a gentle three hours out of the bamboo forest, pastures and rolling hills populated by cows, horses, goats and indigenous Naxi and Yi minorities.
This area, while rural and peaceful compared to almost anywhere else I've been in China, already contrasts greatly with the lush forests and vibrant mountain pastures we have been hiking through these past few days.
It is over-grazed and trampled by heavy cattle hooves. Some areas are already desertified — completely turned to sand. Walking through this land, I think less about appreciating the beauty of nature, and more about what needs to change in order for it to be healthier.
Looking out over the trampled, sand-filled grass, I think about the grass-farming techniques I recently observed in a farm far away in Jilin province. "The grass grows healthier and the land can support twice as many animals when grazed properly," the farmer there had explained.


My mind wonders what I can do to bring those methods to this region.
We wait now for the cars that will take us back to Lijiang. My body is tired and happy, glowing with the kind of energy and peace that only comes with fresh air, wholesome food and physical exertion.
I have survived my first extended backpacking trek through China's remote Laojunshan Region. It has been a joy traveling with this group — the Chinese are so good at functioning in large numbers. With seventeen of us in all, I always had someone looking after me, sharing a laugh or a smile, making sure I had had enough to eat, that I was warm enough, that I had a place to sit or sleep.
More on this topic
Read previous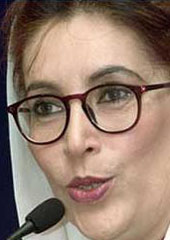 Remembering Benazir Bhutto
December 27, 2007