Hungary's Viktor Orban: Europe's Flame Thrower
How Viktor Orban rides the populist wave against Muslim "invaders."
January 14, 2018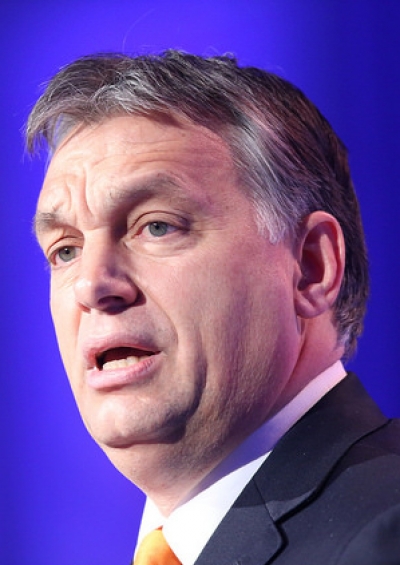 Credit: European People's Party www.flickr.com
In a January 8th interview with Germany's tabloid Bild newspaper, Hungary's prime minister Viktor Orban said "we don't see these people as Muslim refugees. We see them as invaders."
Multi-culturalism, he asserted, is an illusion. Muslim culture, according to him, is so different from Europe's that it is no wonder parallel societies are being created.
Viktor Orban
Orban's anti-migrant campaign is resonating beyond central Europe into Italy and even Germany. Earlier this month, he was welcomed at a conference of Bavaria's Christian Socialists, whose leader Horst Seehofer is critical of chancellor Angela Merkel's immigration policies.
In 2015, close to one million mostly Muslim refugees arrived in Germany. About 150,000 of those refugees transited Hungary. Virtually none of them wanted to stay in Hungary.
Orban has made common cause with neighboring Poland, Slovakia and the Czech Republic where public opinion opposes refugee resettlement.
Poland and Hungary vs. EU Commission
Hungary and Poland are being targeted by the European Union Commission for refusing a quota of 10,000 refugees under a burden sharing measure agreed to three years ago. The case is before the European Court of Justice.
Since the 2015 migration crisis, Poland has accepted no refugees while Hungary, the Czech Republic, Slovakia and Austria have each taken fewer than twenty. Newly elected Czech prime minister Andrej Babis says simply, "we don't want any refugees."
The Fidesz Party that Orban founded holds a two-thirds majority in parliament and is favored to win new elections set for April 8th. Orban has ruled Hungary with an increasingly authoritarian hand since 2010.
He has restricted judicial and media freedom, rewritten Hungary's constitution and centralized power. His assertive nationalism and challenge to European Union mandates has boosted his popularity.
Hungary's leader also claims that Christian Hungary has never had much immigration and wishes to preserve its ethnic identity.
Flirting with Russia
While raging against Brussels, he has flirted with Russia and, despite his country being a member of NATO, says Moscow poses no threat to Europe.
Orban's relaxed stance towards Russia would seem to put him at odds with Poland's similarly authoritarian but strongly anti-Russian government.
But earlier this month, Poland's new prime minister Mateusz Morawiecki from the ruling conservative Law and Justice Party chose Budapest for his first foreign visit. The bilateral meetings were harmonious and both leaders pledged to cooperate to expand central European influence inside the EU.
Orban calls 2018 the year of restoring the will of the people, specifically on migration. Europeans, he says, "don't want to live under terrorist threats. They want security and their borders protected." The EU, he says, doesn't control its border and its migration policy has failed.
But this strong rhetoric in no way suggests that Hungarians wish to leave the union. They want to stay in the EU because of the benefits they receive, most notably aid and labor mobility.
Hungarians on a per capita basis are the largest beneficiaries of EU structural and convergence funds, money that has built bridges, roads and train stations. While Poland is the largest recipient of EU largesse in absolute terms, Hungary is not far behind.

Anti-Soros posters in Budapest Metro
Biting the hand that fed him
During a visit to Budapest in November, I was startled to see posters bearing the image of billionaire Hungarian-born investor and philanthropist George Soros all over the city. Paid for by Fidesz, these ubiquitous posters tell Hungarians not to let Soros have the last laugh.
Soros is the favorite target of Orban, seeming to represent everything he opposes—multiculturalism, diversity, globalization and tolerance. Soros is accused of wanting to Muslimize Europe. Some Jewish groups see the campaign as anti-Semitic, others do not.
Ironically, Orban himself has benefited personally from Soros's beneficence, as it was the Hungary-born billionaire's foundation that paid for Orban's study at Oxford University.
Orban has put the Soros financed and highly respected Central European University in Budapest in his crosshairs for being funded from outside the country. Restrictions have been placed on foreign funded non-government organizations.
Hungary as pattern-setter?
Back in the 1960s, the esteemed British historian A.J.P. Taylor wrote that "again and again Hungary set the patterns for others." Hungary, he wrote, led the attack on the 1919 peace settlement (that robbed Hungary of much of its territory), it was an early breeding ground for fascism, and in 1956 led the resistance to Soviet domination.
In a curious way, Hungary is now punching above its weight and Orban is putting his country squarely on the European political map, but not for reasons many Europeans like.
Editor's note: Author and journalist Barry D. Wood was in Hungary updating his book, Exploring New Europe.
More on this topic