Parachuting Over Ukraine, at Age 90
War, uniforms, armies: Military memories in a troubled landscape.
March 30, 2014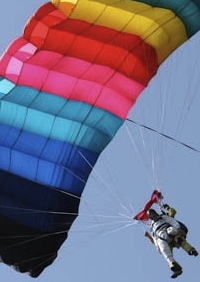 Credit: Konstantin Bunovsky for The Globalist and The Other Hundred
In recent weeks and months, a global spotlight has been cast on the ethnic and language divisions between eastern and western Ukraine. Konstantin Bunovsky, a photojournalist and documentary photographer, captures a key part of what now threatens to become a big divide inside Ukraine.
Bunovsky's primary aim is to show the life of the country through photographs of ordinary people. In this selection from "The Other Hundred," Bunovsky shows a snapshot of a big day in the life of Alexey Mikheev, an elderly man from Dokuchaevsk, which is located in eastern Ukraine's Donetsk region.
Alexey was born in the early days of the Soviet Union when Ukraine was part of the U.S.S.R. He has seen many changes come and go in his country.
These include a deadly famine under Stalin (the Holomodor of 1932-1933), a historic massacre of Jews by the Nazis (Babi Yar in 1941) — and one of the world's worst nuclear disasters (Chernobyl in 1986).
In the second world war, Alexey Mikheev lost one of his legs during the battle for Stalingrad. In that battle, Soviet citizens and soldiers from around the U.S.S.R. made what seemed to be their last stand against the invading Nazi forces. Showing great courage and determination, and with great loss of life, the Soviets eventually repulsed the advancing occupiers.
What this photo essay ultimately attests to is how the achievements and personal emotions of human beings are exposed to the many twists and turns of history, political, social and otherwise.
Against that topsy-turvy backdrop, the photos below document Alexey, on his 90th birthday, realizing one of his dreams: A local parachute club offered him a free jump from one of its aircraft.
Alexey Miheev, a retiree from Dokuchaevsk, climbs down the stairs of the building in which he lives with his wife. Though aging and working around his disability, he still cycles regularly.
---
Alexey waiting for his turn to carry out a parachute jump at the airfield of the skydiving club on his 90th birthday near the village of Valeryanovka.
---
Alexey recited poems and sang songs as workers of the aerodrome made preparations for the flight that would take him to 3,600 meters for the jump.
---
Here Alexey Miheev being prepared for parachute jump in a hangar near the airfield. Alexey lost a leg due to injury received during the Second World War at the Battle of Stalingrad. Alexander Nechehov, an instructor (yellow suit), helps him to hide an empty trouser leg. Alexey and Alexander made a parachute jump in tandem.
---
Fulfilling a lifelong dream, the 90-year-old amputee Soviet veteran of Stalingrad parachutes down from above three and a half kilometers over his Ukraine. After free-falling for one minute, he opened his parachute and descended for another four minutes before landing safely in a field.
---
More on this topic
Takeaways
As Ukraine vividly tests, human beings are exposed to the many twists and turns of history.
A long time ago, fighting for the Soviet military used to make people proud -- defeating the Nazis in WWII.
Some former Red Army WWII soldiers are still alive in Ukraine. Which side will they choose?