Nigeria: Lights, Camera, Action!
Each year, Nigeria's film industry makes more movies than Hollywood. Get behind the scenes with these photos.
April 4, 2015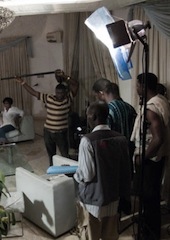 Credit: Marco Garofalo for The Other Hundred and The Globalist.
Born in Milan, in 1976, Marco Garofalo started working as a photographer for fashion and advertising and then dedicated himself mainly on travel reportage. Today he works as a photo/video reporter on social and cultural themes. He also maintains workshops on photography that help reintegrate misfit teenagers through photography and its creative possibilities.
• • •
Culture is one of Nigeria's great exports. During the 1990s and 2000s, the country's film industry – Nollywood – grew quickly to become the world's second largest maker of films in terms of number of productions, just ahead of the United States and only behind India.
Nollywod now releases between 900 and 2,000 productions a year (the estimates vary widely), with budgets ranging from $40,000 to just over $200,000 – a fraction compared with the $140 million Hollywood now averages for a major release.
The industry is almost totally digital, with the films released straight to DVD or increasingly watched via the internet, on social networks and on mobile phones. Even the most popular Nollywood stars are paid comparatively little – most are receiving between $1,000 and $3,000 per film.
The photos below were taken in Lagos, Nigeria, in March 2009.
They appear in the book The Other Hundred.
A café under the Association of Voiceover Artists (AVOA) from Nigeria is a meeting point for Nollywood artists and professionals. In this picture: Mr. Bimbo Manuel, actor and voiceover artist, Mr. Silo Bande, voiceover artist, and Ngozi Nwosy, an actress from the first Nollywood movie ("Living in Bondage"), seen here hugging Mr.Kinoshi Adedapo, a producer.
---
Preparing a scene.
---
A funny moment for Kunle Afolayan, actor, film director and producer during the make-up before the shooting of his new film "Figurine."
---
Frank sells a Nollywood movie to a young woman in his DVD shop at Lagos's Idumota Market. Unlike Hollywood or Bollywood, the majority of Nollywood's revenue comes from DVD sales, making piracy a major concern. According to the World Bank, sales of pirated Nollywood DVDs outnumber legitimate sales nine to one.
---
On the set of the sitcom "Girls Next Door" directed by Fidelis Duker, one of Nollywood's most prolific film and video makers.
Also the founder of the Abuja International Film Festival, now in its 11th year, and president of the African Festival Network, Fidelis has long argued that the only way the rest of the world will respect Nigerian films is if the country's directors make movies about Nigeria and its culture.
---
More on this topic
Takeaways
Culture is one of Nigeria's great exports. Its film industry makes more movies annually than the US.
#Nigeria: Unlike Hollywood, most of Nollywood's revenue comes from DVD sales, making piracy a major concern.
Fidelis Duker, a prolific #Nollywood filmmaker says Nigerians must make films about #Nigeria to earn world respect.