Part I: The Moral Duty of the Elites
It is the moral duty of the elite to avert global disaster.
August 20, 2017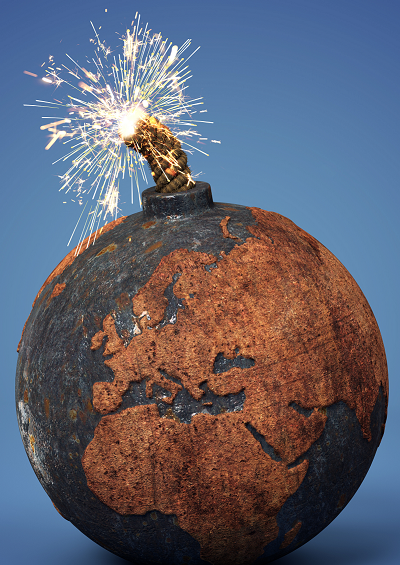 Credit: Dzianis - Shutterstock.com
Faced with climate change, financial, economic and spending crisis, mass migration, terrorism, wars and cyber threats, it appears we are very close to global emergency.
Given this state of affairs, we are running out of time to fix the problems of our planet. Here, we present what should be decided during the UN General Assembly on September 23, 2017 and a reflexive preamble.
We acknowledge your efforts to improve the quality of life. However, these efforts have also caused a further increase in the consumption of resources and energy.
It appears that this is now driving our planet to the edge: Climate change affects the global water system, agriculture and the basis of the lives of billions of people. It causes environmental disasters, mass migration and armed conflicts. Moreover, it is estimated to threaten about one-sixth of all species on our planet.
There is still time
Nevertheless, global disaster is not inevitable — if we re-organize the world in a suitable way, as discussed below.
The lives of billions of people are at risk. It is the moral duty of politicians, religious, cultural, scientific and business leaders – in short: the elite – to avert likely disasters, humanitarian crises and ethical dilemmas as much as possible.
This requires bringing about the necessary changes of society on the way in a timely manner.
With the aim to "save the planet," many have urged the world community to reduce carbon emissions drastically by 2030 and almost completely by the end of the century.
However, given that the world population has grown roughly proportional to global oil and gas consumption, such a drop would largely reduce the carrying capacity of the Earth for people — unless the reduction in carbon-based energy can be replaced by renewable energy in a timely manner.
New solutions needed
New solutions are needed not only for heating and transportation, but also for the chemical industry, because the production of plastic and fertilizer currently depends on oil. Altogether, a radical re-organization of major parts of our economy appears to be urgently necessary.
Even though philanthropy and engagement in responsible innovation have increased, this urgent transformation has not taken place to the required extent. To a considerable degree, this is because those who have "vested interests" in the old system have often obstructed change.
However, "vested interests" are no excuse for inaction or delays. Property and power imply responsibility. If this responsibility is not adequately exercised, power lacks legitimacy.
If people have to pay with their lives for "vested interests", these interests clearly undermine the very basis of societies.
Human dignity, which underpins many fundamental values and human rights, is the imperative that all individual, political and economic action should be oriented at. It is the key value and central pillar of many modern societies and, according to many constitutions, must be actively protected by all means.
A final call to action
If humanity wants to bring a positive future or even a "Golden Age of Prosperity and Peace" on the way, we need to dramatically reform our basic societal institutions, e.g. the present financial and monetary system, our economy and society.
Even though it seems that the current organizational principles of our world have served us well for a long time, they are now often failing to deliver the right solutions early enough.
Within the current framework, time and again we got trapped in suboptimal solutions to complex coordination games, "tragedies of the commons" and problems of collective inaction.
In our highly networked cyber-physical world, linear thinking (the assumption that effects are proportional to their causes) and the ethics of small-group, face-to-face interactions in relatively simple settings are often leading us astray.
Fundamental change is inevitable. It seems that what needs to take center stage now is not how much money or power someone can accumulate, but how much he or she is benefitting others and the world. Apparently, our societies have largely lost track of this basic guiding principle.
A lack of imagination
Claiming that our problem is overpopulation of the planet reveals lack of imagination.
By now it is obvious that all traditional problem-solving approaches have failed to work.
Also, the attempt to revive historical forms of societal organization, empowered by Big Data and Artificial Intelligence, does not seem to work, as the recent experiences in various countries with technocratic Smart Cities approaches have shown.
However, if innovation within the current system is not sufficient, the system itself has to be reinvented and changed.
It seems paradoxical that – in times of an abundance of data and the best technology ever – centralized control attempts failed to boost our most advanced economies and societies to a new level of satisfaction and prosperity, sustainability and resilience.
The reason for this lies in the complexity of hyper-connected systems, in which processing power cannot keep up with data volumes and those cannot keep up with the combinatorial increase in complexity.
Such networked systems often behave in unexpected and counter-intuitive ways: Rather than the intended effects, one will frequently find side effects, feedback effects and cascading effects.
Artificial intelligence is not enough
Given these circumstances, centralized control attempts perform often poorly. Even the most powerful artificial intelligence systems will not be able to manage the overly complex and often quickly changing systems of our globalized world well enough.
As a consequence, a new, decentralized control paradigm is needed, which implies the need for modular designs, diverse solutions, and participatory opportunities.
Therefore, we need new ways of participatory decision-making as well as new designs of the monetary, financial and economic system. In the new framework we propose, co-creation, co-ordination, co-evolution and collective intelligence are the main underlying success principles.
More on this topic