Rome Fiddles While Europe Burns
Why Federica Mogherini's selection falls far short of what the EU needs
September 2, 2014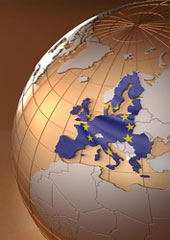 Credit: Maxx-Studio/Shutterstock.com
The selection of the remaining top posts for the European Union at a meeting in Brussels on August 30 had been hailed as Europe's "moment of truth." Unfortunately, Europe failed that test.
2014 was supposed to be a step forward in the legitimacy and coherence of EU policy. This mattered all the more as Europe has not met a stronger set of challenges in decades than right now.
Iraq, Libya, Syria – the entire Middle East — are coming apart at the seams, threatening Europe with waves of illegal immigrants and terrorism. Europe is also still struggling to recover from the financial crisis that began in 2008.
So many challenges
Vladimir Putin, reprising the role of the Czars or Stalin (take your pick), has committed outright aggression that risks tearing apart the entire fabric of the postwar order. Putin's path threatens the stability and independence of the EU's most eastern members – Estonia, Latvia, Lithuania and, possibly, even Poland.
Given these challenges, the need for a newly invigorated and coherent set of policies out of Brussels and the 28 member states has never been more urgent. The EU needs to signal in no uncertain terms that Putin's recent revanchism is unacceptable… period.
The EU also needs to come up with a program of diplomacy backed by some teeth in order to resolve the issue. After all, it was the subject of closer association with the EU that sparked recent events.
Europe also finally needs to develop a coordinated energy policy. Otherwise, it would allow Putin to play a game of divide and conquer with Europe.
Not a serious selection
To deal with all these challenges, the EU has now selected Italian Foreign Minister Frederica Mogherini, 41, as the new High Representative for Foreign Affairs. Her selection had previously been met with vociferous objection from the newest EU members who happen to share borders with Russia.
Some criticisms of the reportedly scholarly Mogherini may well be over the top, such as the correspondent for the Economist last summer calling her "weak" and "ignorant."
Her selection was nevertheless a very poor choice. Mogherini served as an undistinguished backbencher in the Italian Chamber of Deputies for just six years and has only been foreign minister for seven months.
The Italian government has been on the weaker side in its support of sanctions while supporting the South Stream pipeline, one of Putin's leading "divide and conquer" instruments.
Hard though it may be to believe, upon taking the rotating chair of the EU presidency last July, Mogherini made her first trip to Moscow to meet with Putin. She dumbfounded most foreign policy observers by picking this particular time to invite Putin to attend a EU-Asean summit in October – even though Russia is not a member of either organization.
It has also apparently been reported in Itar-Tass that Mogherini might entertain an annexation of eastern Ukraine. Whether coincidence or not, President Putin called for discussions on statehood for eastern Ukraine on August 31.
How did this happen? First, there was apparently a feeling that Italian Prime Minister Renzi should be incentivized to keep him on board with policies to support the Eurozone. Though completely unrelated, his "price" was that he wanted Mogherini in this post.
Second, in an effort to overcome what many see as OWMIGS (old white men in gray suits) in Brussels, there is a strong consensus that there be gender balance – in addition to political balance – among the top EU posts.
When Poland's Donald Tusk emerged as the favorite to become EU Council President, this eliminated the strongest contender for the foreign policy post, Polish Foreign Minister Radek Sikorski from contention.
And that created a need for a left-center female to take over the EU's top foreign affairs post. Mogherini, a female and a socialist, fit the bill.
At a time when Europe is facing threats from a militarily aggressive Russia, it all seems like a Monty Python sketch in which a French politician, played by John Cleese, debates who should lead the French military in 1940 on the basis of their knowledge of … wines.
Gender and competence
Mogherini's selection could well be a disaster because of her lack of competence and gravitas. It is, for sure, not a matter a selecting a woman.
After all, the most powerful European is Angela Merkel. If all of the best candidates for the top three EU posts were women, so be it.
In fact, a very powerful alternative that was discussed would have been to have two women, Danish Prime Minister Helle Thornig-Schmidt and Bulgaria's high respected Kristalina Georgieva, instead of Tusk and Mogherini.
Instead, the coordination of policy among the cacophony of the 28 EU states at this most critical time falls on Tusk, who — although extremely talented — speaks neither English nor French (the languages in Brussels), and on Mogherini. Although trilingual, she lacks first rank experience in either foreign affairs or in Brussels.
God help Europe. God help the world. It really takes faith at a time like this to believe in a positive outcome.
More on this topic
Takeaways
God help Europe. It really takes faith at a time like this to believe in a positive outcome.
2014 was supposed to be a step forward in the legitimacy and coherence of EU policy.
Mogherini's selection is not a matter a selecting a woman. After all, the most powerful European is Angela Merkel.