Dissing Canada: How the Saudis Beat Themselves
Multiple diplomatic spats raise questions about Saudi concept of sovereignty and its human rights obligations internationally.
August 9, 2018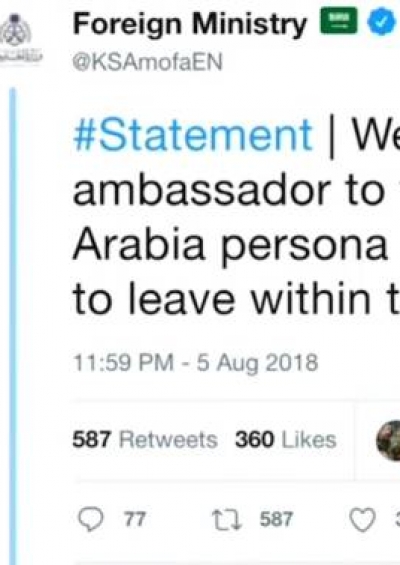 Saudi Arabia may interpret the failure of Western allies to rally around Canada in its dispute with Saudi Arabia as an indication of its growing global power.
It would be well advised to understand that the current silence risks luring the kingdom into a false belief that economic sanctions will shield it from, if not reverse mounting criticism. This applies to its human rights record at home and abroad as well as its conduct of the war in Yemen.
It also risks convincing Saudi Crown Prince Mohammed bin Salman that acting with impunity will not impinge on his efforts to attract badly needed foreign investment. At a time when there are ever more legal or ethical requirements, often self-imposed by large institutional investors, the presumed strong-arming of Canada may backfire.
The Saudi-Canadian spat erupted after Canada's ambassador to the kingdom, Dennis Horak, called on Saudi Arabia to release detained women activists, including Samar Badawi, the sister-in-law of a recently naturalized Canadian citizen, Ensaf Haidar.
Ms. Haidar is married to Ms. Badawi's brother, Raif Badawi, who was arrested in 2012 and sentenced to ten years in prison and 1,000 lashes for promoting freedom of expression and women's rights.
Part of a pattern
The spat follows similar incidents with Sweden in 2015 and Germany in November of last year. In its character, the Saudi response is not dissimilar to approaches adopted by other autocracies like China which has responded similarly on issues such as Taiwan, the South China Sea and the deployment of a U.S. anti-missile system on the Korean peninsula.
Saudi Arabia withdrew its ambassador to Sweden after Swedish foreign minister Margot Wallström criticized the kingdom's human rights record, including the sentencing and flogging of Mr. Badawi and cancelled an arms agreement.
Similarly, Saudi Arabia recalled its ambassador in response to German criticism of the kingdom's attempt to interfere in Lebanon's internal affairs by putting Lebanese prime minister Saad Hariri under house arrest and forcing him to resign. The Saudi attempt backfired, and Mr. Hariri later withdrew his resignation.
In an indication that Saudi Arabia's intimidation tactics may be boomeranging, Germany in January said it was "immediately" stopping approving arms exports to anyone participating in the war in Yemen, including Saudi Arabia.
Saudi Arabia constantly interfering in other nations' internal affairs
The Hariri incident as well as Saudi lobbying against U.S. President Barack Obama's nuclear deal with Iran, President Donald J. Trump's decision to move the American Embassy in Israel to Jerusalem, and what veteran Middle East journalist Brian Whitaker described as "hurling abuse at Qatar" puts Saudi complaints about interference in its internal affairs on thin ice.
In an editorial, The New York Times noted that:
The Saudis claim that the Canadian statement is 'an overt and blatant interference' in its internal affairs, but that argument is specious… Under Prince Mohammed, the Saudis have…not been shy about speaking out about, or directly intervening in, the affairs of other countries, including Yemen, Bahrain and Qatar.
Exporting extremism
Not to mention Saudi Arabia's longstanding efforts to promote extremist interpretations of Islam in countries around the world, often far away from Saudi shores.
In effect, the Saudi attempt to bully governments into refraining from criticism constitutes an attempt to curtail the sovereignty of others by dictating to them what they can and cannot say, while declaring its own sovereignty sacrosanct.
Saudi Arabia's amateurish and self-defeatist PR moves
To the kingdom's detriment, it also blows incidents out of proportion that otherwise would have likely gone unnoticed. Few would have taken note of Mr. Horak's comment on Twitter had Saudi Arabia not put a glaring spotlight on them.
As a result, Saudi Arabia's harsh response to the Canadian ambassador's remarks, like earlier arbitrary arrests in the last year of hundreds of activists, religious figures, and prominent businessmen and senior members of the ruling Al Saud family on a host of charges ranging from treason to corruption and apostasy has but one consequence: It threatens to further undermine investor confidence in the kingdom's adherence to the rule of law.
Saudi Arabia and the UN Human Rights Council
The Saudi assertion that Canada had interfered in its internal affairs ignores the kingdom's legal obligations. After all, Saudi Arabia is a signatory to various international human rights treaties that override national sovereignty as well as its role in the United Nations Human Rights Council.
This body operates on the principle of governments monitoring and criticizing each other's human rights record.
Saudi self-defeatism
Saudi journalist Jamal Khashoggi, who last year went into voluntary exile in the United States despite being critically supportive of Prince Mohammed's social and economic reforms and having close, long-standing ties to the Al Saud family, warned that Saudi Arabia was in effect cutting off its nose to spite itself.
"Saudi Arabia simply cannot afford to alienate any other sections of the global community in the midst of its unpopular military engagement in Yemen… Most importantly, Saudi Arabia's economic transformation requires more friends than enemies."
"For MBS to achieve the economic and transformative vision that he espoused on his foreign tour, he needs to use ways and means that investors are accustomed to. If business executives fear a backlash over any possible criticism regarding their investment, the new vision of Saudi Arabia would be in serious jeopardy," Mr. Khashoggi said referring to Prince Mohammed by his initials.
More on this topic