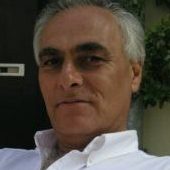 Senior fellow, S. Rajaratnam School of International Studies
[Singapore]
James M. Dorsey is a scholar and award-winning journalist.
James M. Dorsey is a scholar and award-winning journalist. A senior fellow at Singapore's S. Rajaratnam School of International Studies and co-director of the University of Wuerzburg's Institute of Fan Culture, James is one of the pioneers of the exploration of the political, social and economic aspects of Middle Eastern and North African soccer.
James has published widely in scholarly journals, writes a syndicated column, is the author of the acclaimed blog, The Turbulent World of Middle East Soccer and a recently published book with the same title.
His book, Comparative Political Transitions between Southeast Asia and the Middle East and North Africa( co-authored with Teresita Cruz-Del Rosario), was published in July 2016.
He is currently working on three forthcoming books: China and the Middle East: Venturing into the Maelstrom, Creating Frankenstein: Saudi Arabia's Export of Ultra-conservative Islam, and Shifting Sands: Volatile Transitions in the Middle East and North Africa, Essays on Sports and Politics
A two-time Pulitzer Prize nominee and a 2013 finalist for the European Press Award, James started covering ethnic and religious conflict as a foreign correspondent in the 1970s.
He served as a foreign correspondent for Dutch newspaper Trouw, The Wall Street Journal, The New York Times, Financial Times, The Christian Science Monitor and Dutch and Belgian radio and television. James was based in Beirut, Jerusalem, Cairo, Teheran, Kuwait, Riyadh, Dubai, Larnaca, Athens, Istanbul, Washington, Lima, London, Paris and Amsterdam.
Beyond the Middle East and North Africa, James has also reported over the past four decades from most major conflicts zones in Europe, Africa, Latin America and Asia, including Afghanistan, former Yugoslavia, Central Asia, the Caucasus, Ethiopia, Somalia, Rwanda, Congo, Eritrea, Yemen, the Western Sahara, Columbia, Panama, Nicaragua, Honduras, Guatemala, Kashmir, Thailand and Bangladesh.
Articles by James M. Dorsey