The Sikorski Plan
How the Polish Foreign Minister shaped a (possible) solution for Syria.
September 12, 2013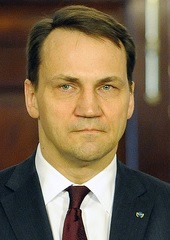 Polish Foreign Minister Radoslaw Sikorski. (Credit: U.S. Department of State)
A new urban legend is being spun. Before it takes hold for real, it's high time for the truth to emerge in its full, splendid detail.
According to that legend, the Obama Administration reverted to the path of diplomacy on Syria only after a goofy remark by Secretary of State John Kerry in London about a possible way out of the crisis — if the Syrians came clean on their chemical weapons immediately.
Fat chance, Kerry added. But in reality, something else was going on. European forces had been at work getting the issue back on track, after the P-5 (the permanent members of the UN Security Council) had proven unable to do so.
Key in all this was the as-always deft handiwork of Radoslaw Sikorski, one of Europe's most impressive and capable foreign ministers. Sikorski has now acknowledged his paternity regarding the plan now being negotiated in the UN Security Council.
But he did so only after I had broken the story in all its charming detail in my newspaper, Die Welt, this Tuesday. So here goes:
Planting the idea
While the Americans and Russians may now claim paternity, this is not at all how it came about.
The first traces of how Poland's Foreign Minister Radoslaw Sikorski developed the idea to put Syrian President Bashar al-Assad's poison gas under international control, preferably with the help of Moscow, can be found on Twitter.
Washington Post columnist Anne Applebaum, who is married to Sikorski, tweeted on August 30 — with a link to an interview with her husband in the French newspaper Le Monde — the following: "Russia / USSR created Syria chemical weapons arsenal. Maybe Putin should take responsibility for its mitigation?"
In the Le Monde interview, which was published on August 29, Sikorski had the following to say: "If Russia, which opposes a military intervention against Syria, would agree to take responsibility for ensuring the material, that would change the situation."
That same day, Sikorski — no stranger to Washington since his times at the American Enterprise Institute — spoke by phone with Kerry and offered up his idea. The "Sikorski Plan" included a 30-day ultimatum issued to Syria in order to bring Syria's chemical weapons under international control.
Russia should also be involved in the process, he argued.
As Sikorski's spokesman, Marcin Bosacki — soon to be Poland's new Ambassador to Canada — confirmed to me, Kerry reacted with interest to the Polish proposal. Sikorski finally tweeted last Friday that Russia could "possibly prevent a war by declaring that it would secure Syria's chemical arsenal, which built the USSR."
A day later, the EU foreign ministers — unlike the passive and uninvolved bystanders they have been portrayed as in U.S. media — met with Secretary Kerry in Vilnius, Lithuania. Sikorski's idea had been taken up by the Foreign Ministers within the European People's Party (EPP).
Together with the German Elmar Brok, chairman of the Foreign Affairs Committee in the European Parliament, Sikorski submitted to Kerry his proposal to urge, with the help of Russia, Syria to abandon its poison gas capabilities.
Brok confirmed to me that Minister Sikorski and he put forward the idea to Kerry and also made the case that Russia could be helpful. Brok said Kerry reacted positively.
Two days later, on Monday, the world became witness to Secretary Kerry's presumed "goofy remark" during a press conference in London. Margaret Brennan from CBS asked him: "Is there anything at this point that his (Assad's) government could do or offer that would stop an attack?"
The Secretary of State responded, in an almost dismissive tone: "Sure. He could turn over every single bit of his chemical weapons to the international community in the next week. Turn it over, all of it, without delay, and allow a full and total accounting for that. But he isn't about to do it, and it can't be done, obviously."
The events prior to this give a hint that Kerry's remark in his London press conference with William Hague, his British counterpart, wasn't really an unintended throwaway remark, as has been argued until now. It may have been a very deliberate trial balloon.
The rest is history: Russian Foreign Minister Sergey Lavrov picked up the remark, and Assad meanwhile claims that, contrary to Kerry's presumption, he could indeed turn the weapons over to the international community — although it won't happen as quickly as anyone would like.
Russian responsibility
Later on, we learned one more critical bit of news: The United States and Russia have discussed the idea of disarming Syria of its chemical weapons for more than a year in backdoor meetings.
The Russians obviously have a strong interest in safeguarding these deadly weapons, lest they end up showing up, say, in Chechnya, if and when Syria has disintegrated and they are no longer being guarded by anyone.
Since most of Syria's chemical weapons are Russian-made, that would be a tragedy and act of irresponsibility of historic proportions which the Russians, quite literally, could never live down.
No wonder then that Obama and Putin picked up the issue when they spoke for half an hour during the G-20 summit in St. Petersburg. But obviously there was no concrete concept and no detailed plan until Sikorski intervened.
Meanwhile, Sikorski confirmed his role and now takes public credit for it. On Wednesday, he revealed he was "pleased that Russia has taken up Poland's suggestion of her role in dismantling Syria's chemical weapons arsenal". He added that he had "proposed the ultimatum" to his American counterpart Kerry.
Let's hope that the Sikorksi Plan comes to fruition. It would be one great triumph for a key European nation, proving its true valor once again on the world stage.
More on this topic
Read previous
Why Americans Love Bombardment
September 11, 2013