The Obama-Republican Standoff on Climate Change
Americans, standing apart from the world, remain bitterly divided on taking action.
December 13, 2015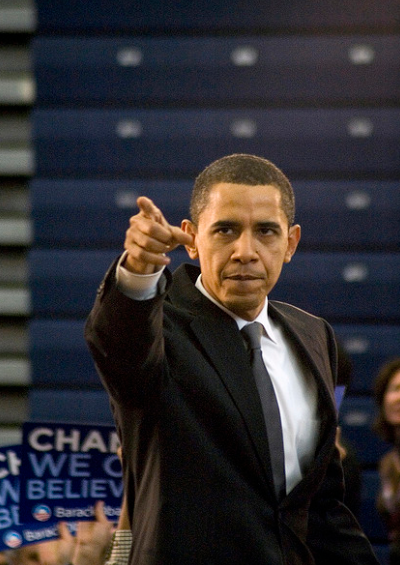 Leaders of 196 nations have succeeded in crafting a common approach to climate change at the COP21 conference in Paris. Yet the United States stands divided.
At the start of the climate change conference, in a display of contempt for the U.S. Presidency, the Republican-led U.S. House of Representatives chose a moment when Mr. Obama was among scores of other heads of state in Paris and voted to block the E.P.A.'s Clean Power Plan.
This is Mr. Obama's signature initiative to reign in climate change by capping the carbon emissions of U.S. power plants. The Senate had passed similar blocking legislation just two weeks earlier.
Republican congressman Ed Whitfield, chairman of the House Energy and Power Subcommittee, was explicit about the G.O.P.'s intent.
"We want the House to adopt this resolution while the climate change conference is going on in France," he said in introducing the legislation, "so that the world will know that in America there is a disagreement about the extreme power grab that this president is initiating under his clean energy plan."
This so-called "extreme power grab" is the E.P.A. exercising its authority to regulate greenhouse gases under the Clean Air Act, which has been upheld by the Supreme Court in 2007 and again in 2011. Congress's attempt to block the E.P.A.'s Clean Power Plan regulations will surely succumb to Mr. Obama's veto.
Shrinking skepticism
In the face of Congressional majorities against his initiatives, Mr. Obama has had strong words for climate change deniers. "They are increasingly alone," he said to foreign ministers and other diplomats at a September Conference on Global Leadership in the Arctic. "They're on their own shrinking island."
Even research that was funded by those who seek to refute the science of climate change has validated it. The Charles G. Koch Charitable Foundation provided initial funding for the Berkeley Earth Surface Temperature project, for example, which was led by a group of "climate skeptic" scientists at the University of California, Berkeley.
(Charles and David Koch are outspoken critics of climate change initiatives and founders of the conservative political advocacy group, Americans for Prosperity.)
The Berkeley Earth project did not provide the results the climate skeptics expected. In a July 2012 New York Times opinion piece, the project's director, Dr. Richard A. Muller, wrote of his "conversion" on the matter:
Last year, following an intensive research effort involving a dozen scientists, I concluded that global warming was real and that the prior estimates of the rate of warming were correct. I'm now going a step further: Humans are almost entirely the cause.
The Department of Defense is perfectly clear on the threat that climate change poses. A July 2015 report that was requisitioned by Congress states:
DoD recognizes the reality of climate change and the significant risk it poses to U.S. interests globally…. climate change is an urgent and growing threat to our national security, contributing to increased natural disasters, refugee flows, and conflicts over basic resources such as food and water. These impacts are already occurring, and the scope, scale, and intensity of these impacts are projected to increase over time.
The American people, nonetheless, remain divided. The attitudes and actual behavior of common-day Americans reflect the rhetoric of the political leaders whom they support.
The limitations of natural resources
I see this every day among homeowners in Atlanta, where I run a contracting company that makes homes energy efficient.
Efficiency is an important part of addressing climate change in America. Twenty-two percent of U.S. energy consumption and 20% of carbon dioxide emissions are from heating, cooling and powering homes.
Yet there is a "red-state, blue-state" divide: Atlanta homeowners in politically progressive neighborhoods are much more inclined to take action on home efficiency than those in more conservative-leaning neighborhoods.
At best, homeowners consider that making their homes energy-efficient is the right thing to do for themselves and the environment. They then look at the dollars and cents of making this investment.
At worst, they are taken aback by the suggestion that one should consume less energy.
The American Dream is predicated on a vision of a country with boundless potential. The idea that Americans should constrain our use of natural resources and consume less is, for many, an affront to that vision.
Nations and people are naturally more inclined to address threats from without than to rise to challenges from within. During the Second World War, America's "greatest generation" made extraordinary sacrifices to fight back the threat of fascism in Europe and Asia – all the while leaving America's issues of civil rights for later generations to resolve.
A challenge from within
Climate change is also a challenge "from within," of our own making.
The ingenuity that has given rise to the world's leading economy has also resulted in America being the world's leading emitter of carbon pollution since the onset of the Industrial Revolution. Our annual carbon emissions are now only surpassed by China.
Can the world's nations ultimately count on the American people and our political leaders to come together to act on climate change, or will we remain divided?
Winston Churchill may have had it right when he said, "You can always count on Americans to do the right thing – after they've tried everything else."
When it comes to action on climate change, one can at least hope.