Ukraine's Maidan Square: A Photo Essay
Memorials to the "Heavenly Hundred" in Kiev's Maidan Square are a reminder of unfulfilled promises of reform.
July 13, 2014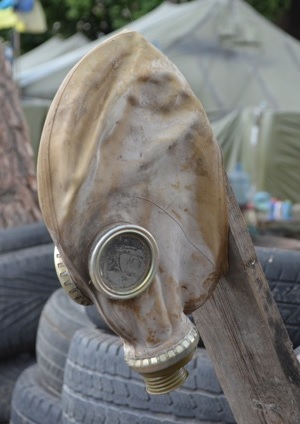 More than four months after the departure of former President Viktor Yanukovych from Ukraine, Maidan Square and its surroundings in central Kiev continue to be dominated by barricades and by memorials to protesters who were killed. The dead are known as the "Heavenly Hundred." Their faces stare out from banners and monuments throughout the Maidan area.
The continued occupation of the square is also intended as a signal to political leaders. The revolution is not over until the new leadership delivers on promises of reform. Prominent among reforms demanded is an end the rampant corruption that has undermined Ukrainian statehood since independence.
I visited Kiev in the latter part of June and took the following photographs:
Memorial to the fallen on Instytutska Street, just above Maidan, where dozens were cut down by snipers in February. This is one of many such monuments lining the street.
The encampments at Maidan display many of the items that featured in the clashes, such as this gas mask.
Shields used by protesters are prominently displayed. They are light and were of no use against the bullets that targeted the protesters in February. This shield highlights the number of the group of hundred, the "sotnia," to which it presumably belonged.
Interior Ministry troops marching away from the Rada (the national parliament). They had been stationed there in case a protest — in this case by Ukrainians who hold dollar denominated loans and are suffering from the devalued hrivna — turned unruly. The protest was orderly and the troops, unneeded, are seen marching to their waiting buses.
Central Maidan. Most of the encampments are unoccupied at night and serve a largely symbolic and commemorative function during the day. The building in the background at right is a former Trade Union headquarters which was set afire during the protests and is now covered by a "Glory to Ukraine" banner.
Maidan Square looking up Instytutska Street. A memorial to the fallen is in the foreground with remnants of barricades behind. Snipers occupied the high ground in the distance. Today, the square is entirely open to pedestrians. In addition to the commemorative barricades, there are beer tents and an ice cream stand.
Remainder of encampments just outside the press center at Maidan. Faces of the fallen and memorabilia from the struggle cover the area. The mood is more that of an exhibit than a real camp.
Banner denouncing Yanukovych and former Prime Minister Azarov outside a tent on Kreshatik Street near Maidan. Yanukovych emblazoned toilet paper and doormats are also widely sold in Maidan.
Editor's note: All photographs by and used with the permission of the author. The views expressed in this article are those of the author and do not necessarily reflect the views of the U.S. Department of State or the U.S. Government.
More on this topic