Italy's Elections: How Germany Is Italianizing Itself
Italian politicians warning against "Germany-type problems" in forming a government after the next election are a truly striking moment of European integration – although not a particularly welcome one.
March 1, 2018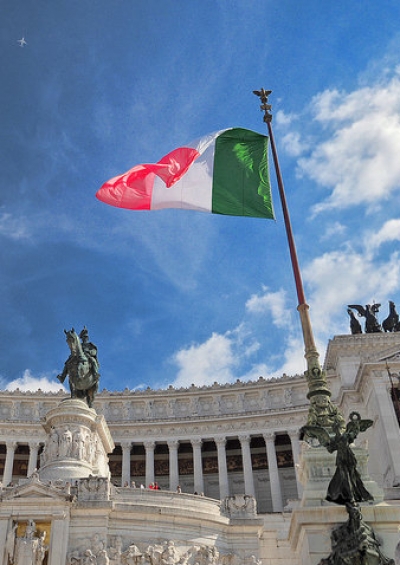 Credit: Dmitry Dzhus www.flickr.com
Italy is holding a national vote on March 4th. Normally, the outcome of parliamentary elections in Italy is a spectacle that we Germans like to enjoy. Given the traditional short-lived nature of Italian governments after 1945, we are always quick to speak of the "irresponsibility" of Italian politicians.
Alas, this is no longer the time for convenient stereotypes. This is not so because Italy has changed — but because the Berlin Republic is in the process of Italianizing itself.
Accordingly, Germans can no longer laugh away Italian voices who currently warn in their own national election campaign against "German conditions." They worry that it may be tough to form a government following next weekend's elections.
That this would mean following in Germany's footsteps, in its very own way, represents a truly striking moment of European integration – although not a particularly welcome one for anybody.
Changing perspectives
This also changes the traditional German perspective on Italian politics. As much as we may have tended to belittle Italy in the past, the bacillus of instability and improvisation has jumped over to German politics.
An indisputable shadow of stagnation and political ineffectiveness hangs over the Berlin Republic. It is only thinly disguised by the melodramatic – read: Italian – tendency of German politicians to engage in personal jockeying for jobs (rather than getting the country's political issues resolved).
In Italy, this process of decay began 40 years after 1945. In Germany, it has taken about seven decades since the end of WWII. Nonetheless, the CDU – the country's major governing party – is currently showing signs of internal frailty and disorientation that are reminiscent of what happened in Italy in the late 1980s.
At the time, Italy's Democrazia Cristiana, previously the country's dominant party and an effective container of various conservative currents, became a mere shadow of its former self.
In all likelihood, the results of the March 4th elections in Italy will continue the Europe-wide trend of increasing consolidation of conservative and very right-wing parties.
Europe's "social bomb"
The irrepressible Silvio Berlusconi, although banned from running for political office, has weighed into the national campaign. He describes the influx of illegal migrants as a "social bomb." That is bound to upset Germans on the center-left and left greatly.
Nevertheless, Berlusconi may well be right with his assessment. After all, Italy has not been able to productively integrate large parts of southern Italy into modern economic structures after nearly seven decades of trying. It is highly unlikely that the country would succeed any better with migrants from Africa who, to a considerable extent, are illiterate.
Furthermore, one should not forget that even the economically much more successful Germans have not yet delivered any real proof that they will manage to prevent a similar "social bomb" in their own country.
It is important to note that in Italy, as elsewhere in Europe, the political trend to the right has very little to do with any higher level of competence of the conservative or right-wing parties. They are first and foremost the political beneficiaries of the growing discontent associated with the migration flows that have gripped Europe.
Paolo Gentiloni, the current Italian Prime Minister, may still assert that his country, together with Germany, is one of the "lighthouses" of a liberal European migration policy.
Italy's dirty deal
At the same time, political reality has long captured him and his party. The deal, negotiated by the Italian intelligence service with actors in Libya, to stop the flow of boat people across the Mediterranean, may be viewed by some Europeans as "dirty" and irresponsible. But it is effective – given the persistent political weakness of Frontex.
The Italian government may also rightly credit itself that, by acting in this manner, it has prevented yet more political turmoil not just at home, but throughout Europe. But will it be enough to ensure reelection?
In this respect, Prime Minister Gentiloni reminds one of the smart and enlightened Christian Kern, an enlightened Social Democrat, who was Austrian Chancellor until December 2017 (and now leads the opposition).
What about the economy?
Looking to the future, what about the economy? And what ideas does Italy have for the EU? No question, Germany is seen in Italy as a "war profiteer," racking up huge current account surpluses following the introduction of the euro. Accordingly, it is widely felt in Italy that Germany's federal government should spend more money on European projects.
That is a desire which the incoming Berlin government has expressed all by itself – even prior to the commencement of any EU-level negotiations. No wonder it is seen as a premature unilateral concession.
At the same time, the effect of any future investments on economic growth and economic activity in Italy is often overestimated. For this to succeed would require a much deeper structural reform in Italy.
But that attempt was undertaken only haphazardly by former Prime Minister Matteo Renzi. The bad design of his reforms cost him his job.
One would wish that Italy pursued meaningful reforms with a long-term vision and determination. Unfortunately, all too often, there is a misconception that real problems such as far too high levels of youth unemployment can be effectively combated by more money from Brussels.
As long as this is not coupled with smart, market-oriented reforms of the vocational training system, any such funds simply evaporate.
More on this topic