No Aid for Syrian Refugee Survivors of Rape
In Syria, once again, rape is being used as a weapon of war. What can be done?
April 27, 2013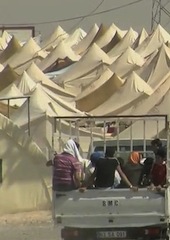 Syrian refugee camp. Credit: Voice of America News
One doctor said: "If a rape survivor came here, I would call the rapist himself and tell him to come here to the hospital. Then I would lock her alone with him in a room."
"I would call the police immediately and tell them to take her away. We don't see these kinds of patients here," another tells me.
While these caustic statements reverberate horror and disbelief in my American ears, this is the reality that Syrian refugee women face.
I was recently in Lebanon conducting an emergency assessment of the capacity of the health system to treat survivors of rape. The results are clear: it's virtually non-existent.
In Lebanon, there are few — if any — viable medical options for survivors of rape. Considered taboo and viewed as a domestic family issue, survivors are left with nowhere to go to seek clinical care.
Life-saving treatment to prevent HIV or unwanted pregnancy, as well as sexually transmitted infections, is extremely time-sensitive. There may be as limited a window as 72 hours for HIV post-exposure prophylaxis.
This lack of access to timely and compassionate care is a human rights violation in its purest form.
The Lebanese government estimates there are now over 1 million Syrians living in the country. That is nearly a quarter of the Lebanese population prior to the outbreak of Syria's civil war two years ago.
More than half of the Syrian refugees living in Lebanon are women.
The often forgotten by-product of war is sexual violence against women, but it is almost always eclipsed by seemingly more pressing humanitarian issues such as food and shelter.
When I was in Lebanon, some aid agencies de-prioritized health programming for survivors of sexual violence. They justified this action by the seemingly low numbers of rape cases.
Incredibly, a few governmental officials even accused NGOs of concocting this sexual violence myth and creating drama where it didn't actually exist.
But the truth is that exact numbers of rape are impossible to determine, regardless of whether by an intimate partner or by militia.
Anecdotal evidence, neighborhood surveys and focus group discussions from the International Rescue Committee (IRC) and the UN Population Fund confirm that rape is prevalent and pervasive.
Once again, rape is being used as a weapon of war. Reports by the IRC and Women Under Siege reveal that Syrian government and paramilitary soldiers loyal to President Bashar al-Assad are committing acts of sexual violence against women and girls.
I can't tell you how many times doctors pulled me aside and whispered in my ear, "We know rape is happening in these refugee communities. It is a big problem here. We just can't talk about it."
There are, however, tangible solutions. While in Lebanon, I trained local health providers, distributed rape kits and set up an effective referral system. These services are providing formal clinical care for rape survivors for the first time ever in Lebanon.
Not only will the services benefit rape survivors from the Syrian refugee crisis, but also they will improve and fill a crucial need in the existing Lebanese healthcare system.
This NGO-driven approach is still only a temporary stop-gap measure.
In order to universalize and revolutionize services — in essence, to stop the human rights violation of denying care to these women — funding and policies from up top need to change.
International aid money and donor priorities need specifically to allocate resources to target sexual violence, instead of camouflaging it under other programs or outright ignoring it.
We may not be able instantly to abolish the age-old societal stigmatization of rape survivors or the cultural practice of viewing rape as a household problem that should be solved at home.
However, we can at least make Lebanon's hospitals and clinics reliable refuges for women to obtain proper medical treatment. Only in this way can comprehensive, accessible services be developed and only in this way will women begin to feel safe seeking care after being raped.
Then maybe we can start to count the cases, knowing still that they will always be a gross under-estimate.
If we wait for the numbers to justify spending and programming for Syrian refugee survivors of sexual violence, we may wait indefinitely.
After all, would you report you were raped if it resulted in being confined to a closed room with your rapist?
Helen Ouyang, MD, MPH is an assistant professor of medicine at Columbia University. She is currently working with the International Rescue Committee as their Reproductive Health Specialist on the Syrian refugee emergency in Lebanon.
More on this topic