The Trump House: Season 5
Is it season 5 already? Have we really milked it this much? Yes and hell yes!
May 20, 2017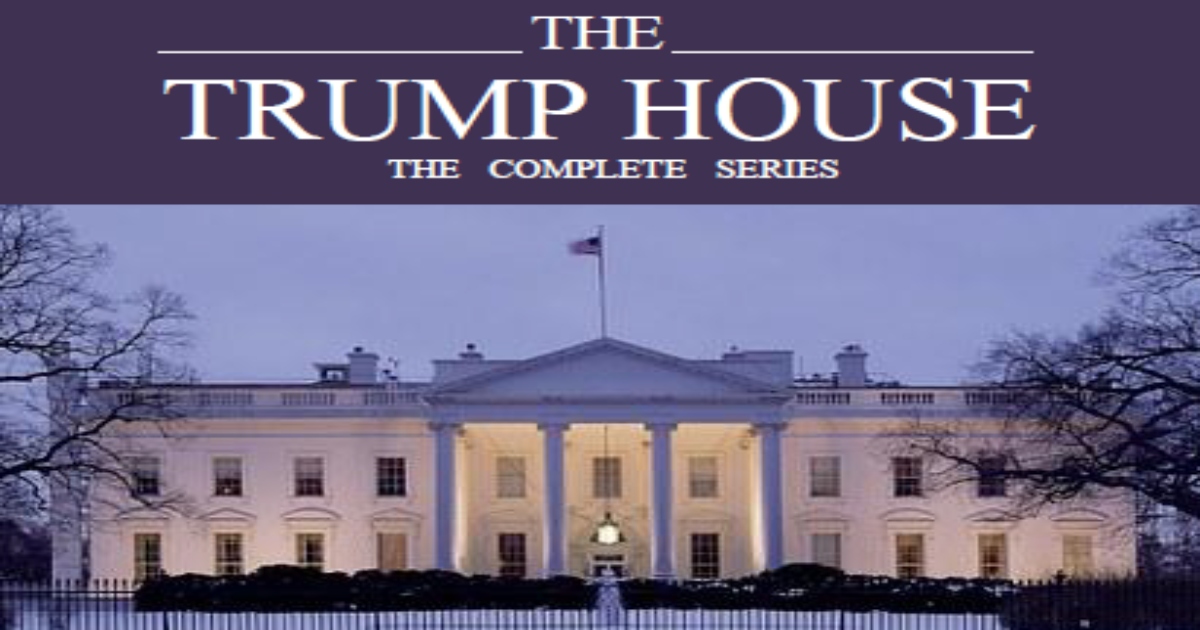 The Trump House, a creative endeavour at the intersection of satire and Kafkaism, is – like the presidency – still somehow going forward.
After four (wonderful) seasons, should we call it a day and pack it in? Possibly. Are we going to? Nope!
Like a blind horse without a bridle, we are going to ride this thing all the way and see where it takes us (again, like the presidency), all the way to impeachment or otherwise. So let's giddy-up, because Season 5 is here!
For those who have just joined us, The Trump House is a (fictional) reality TV show set in the White House. It was the brainchild of Ivanka Trump, who saw an opportunity to increase the value of the Trump brand.
The show has been categorized as a drama/tragedy. It has been described as a crossover of Dallas, Law and Order, Keeping Up with the Kardashians and the Home Shopping Network.
Season 4 recap
Season 4 focused on Trump's foreign policy, characterised by Tomahawk missile strikes, the misleadingly named "Mother of all Bombs" (Wouldn't that mean there were no bombs before it was developed in 2003?) and a lack of clarity regarding naval operations.
However, it was dominated by one earth-shaking revelation, namely that Steve Bannon cheated at Trump: The Game – or as Kellyanne Conway called it, "played by alternative rules."
Season 4 featured hard-hitting episodes such as "Growing Pains," "Adolf Spicer," and "MOAB."
Season 5 plot leaked
As with past seasons of the show, its über-talented producers have worked up a frenzy of anticipation by releasing a list of the first 10 episodes of Season 5:
Episode 1 – USS Carl Vinson?
Episode 2 – Booing Ivanka
Episode 3 – 100 Days
Episode 4 – Honoured to Meet Him
Episode 5 – Repeal and Replace
Episode 6 – Eye Roll
Episode 7 – Better Hope
Episode 8 – Showboat
Episode 9 – Under Assault
Episode 10 – Classified Information
Comeygate
It is no secret what Season 5 will mostly be occupied with – the firing of FBI Director James Comey.
But, whatever its implications for American democracy, the event at least has considerable entertainment value.
In an effort to distract from the controversy, White House officials have been pointing out the funny side of the whole affair.
For example, the irony that Comey found out from TV screens that he was fired. Why is anybody so surprised? After all, President Trump used to do so on his television show (The Apprentice). He's famous for the line "you're fired." All that Trump was achieving was to underscore the reality part of TV.
Or the irony that the official letter to Comey informed him "You are hereby terminated." With that line, Trump was just trying to pull a Schwarzenegger – aka the stocky, but muscular man of "The Terminator" movie fame.
Trump's Press Secretary Sean Spicer even went so far as to compose a humorous rap song about the whole thing – "My Homie Comey."
His press briefing performance of it (complete with bling and backward baseball cap) went down so poorly however that the president tweeted maybe the best thing to do would be to cancel all future press briefings and hand out written responses instead.
Nevertheless, despite all of the administration's efforts to play down the Comey affair, the controversy is not going away. The president has stepped in it huuugely this time (again).
Rocking America
Season 5 will also feature Trump advisor Sebastian Gorka's fall from grace, and even reports that he will leave The White House altogether.
There are rumours circulating that he is forming a heavy metal band with Steve Bannon called "Breitbass."
The word is that they have hired Michael Flynn to be their (domestic) agent, based on an interview given to Rolling Stone magazine by a waiter at The Russian Tearoom in New York (see Season 4). Bannon met Flynn there for lunch to discuss the band (Flynn had the turkey club sandwich).
Season 6 teaser
The producers have been tight-lipped about Season 6. There are rumours circulating however that one episode will involve the president ordering the CIA to reassign Reaper drones to search for Ivanka's dog Tiger when it escaped the White House grounds.
Another episode is rumoured to involve Universal Studios making a movie of the Comeygate affair called "All the President's Hombres."
The word is that Comey's role will be played by Tom Cruise (so we know there will be a running scene) and the President's role will be played by – yep, you guessed it – Alec Baldwin. Hollywood insiders are already betting on double-digit Oscar nominations.
If Season 6 can maintain the exceptionally high standards of Seasons 1-5, The Trump House will continue to win – Big!
The Trump House: Season 5 hits Netflix and Amazon Prime next week. DVD and Blue-ray box sets will also continue to be handed out with McTrump burgers (see Season 4) at McDonald's restaurants following hitherto disappointing sales – only 350 McTrumps have to date been sold nationwide, 340 of which were on Air Force One.
Note: All proceeds from The Trump House will go the family of James Comey. #MakeAmericaEntertainingAgain
More on this topic
Takeaways
The Trump House is a (fictional) reality TV show set in the White House.
Steve Bannon cheated at Trump: The Game – or as Kellyanne Conway called it, "played by alternative rules."
Despite the Trump administration's efforts to play down the Comey affair, the controversy is not going away.