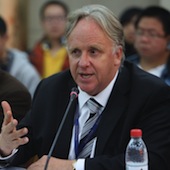 Executive Director, Asian Century Institute
John West is executive director of the Asian Century Institute, which conducts research and analysis and participates in policy dialogues to foster a better understanding of the opportunities and challenges of the Asian Century.
John is also an adjunct professor at Tokyo's Sophia University where he teaches Asian economic development and Japanese business and economy.
He previously served as head of public affairs at the OECD, director of balance of payments at the Australian Treasury and senior consultant for capacity building and training at the Asian Development Bank Institute. He also taught globalization at the Paris-based Institut d'Etudes Politiques ("Sciences Po").
He has a Masters in Economics from Australia's University of New South Wales. His latest book is "Asian Century… on a Knife-edge: A 360 Degree Analysis of Asia's Recent Economic Development" (Palgrave Macmillan, 2018).
You can follow his tweets @asiancenturyins