The New Globalists: Dawn of the Internet in India
Has the status of women in India kept pace with other recent improvements?
August 26, 2013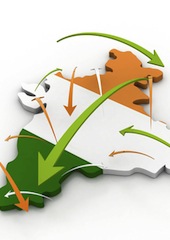 Credit: blackdaliya - Shutterstock.com
This is the last of a seven part series. Return to the beginning or part six.
The Transformers: Seema's India
Seema, like Philippe, was born during a financial crisis. The year was 1991, when India, after years of an overvalued currency, large current account deficits and expanding fiscal imbalances, came within weeks of running out of foreign exchange reserves.
So dire was the situation that in order to secure an emergency loan, the Indian government was forced to airlift tons of gold to the Bank of England and banks in Switzerland as collateral. This enraged the general public, leading to the downfall of the government.
However, structural economic reforms emerged from the ashes of the 1991 financial crisis, putting India on a more sustainable and dynamic growth path about the same time Seema was born into a family of eight.
Another seminal event happened about the same time Seema was born: The Internet went private, triggering a global technological revolution.
Among many things, the Internet facilitated the global boom in the outsourcing of service-sector jobs. India and its English-speaking, highly educated and tech-savvy workforce were among the primary beneficiaries.
Seema's three brothers were sucked into the nation's outsourcing boom, becoming well-paid software analysts for a variety of U.S. and European multinationals.
Seema is just as tech-savvy as her older brothers and hopes to work for a technology company when she is done with her studies.
However, she realizes that as a woman in India, the road isn't paved in gold:
"India's female economy is more fragile. Only the most affluent and urban women have a taste of equality. For the rest, there is significant gender discrimination, limited access to education, low rates of participation in formal labor, and low relative wages." (From "The $10 Trillion Prize: Captivating the Newly Affluent in China and India," by Michael Silverstein, Abheek Singhi, Carol Liao and David Michael.)
India's female labor force participation rate stands at only 32% to 33%, while women's wages have actually declined to 26% of men's wages. Despite this gap, however, women's earnings in India are expected to rise from $280 billion in 2010 to roughly $901 billion by 2020.
The sheer increase in the number of new women entering the workforce will drive this trend. So too will optimism and expectations among Seema and her cohorts that their personal and professional lives are bound to get better over time.
Seema's already made it out of the village, where gender discrimination can be rampant. She is well on her way toward becoming part of India's consuming class.
By the time this decade ends, Seema and her cohorts will see her country of birth undergo amazing changes:
Indian consumers will have spent $22.5 trillion from 2010 to 2020, with annual expenditures rising from $991 billion to $3.6 trillion, a rise of 261%.
From 2010 to 2020, annual per capita income will have increased, on average, from $1,500 to $4,400 in India.
As a result, India's upper class will increase from 9 to 32 million households. The middle class will rise from 63 million to 117 million households. In contrast, the lower class will decline from 152 million to 110 million. The number of people below the poverty line will fall from 455 million to under 200 million.
While about 82 million Indian households lived in houses or apartments in 1980 — and their number had doubled to 163 million by 2010 — by 2020, their number is expected to rise to 189 million.
About 54 million Indians will become college graduates over the next 10 years. Over the same period, the U.S. will graduate just 30 million.
Over their lifetimes, Indian children born today will consume nearly 13 times as much as their grandparents. By comparison, a child born in the United States today will likely consume only twice as much as his or her grandparents given the high U.S. standard of living.
In India, count Seema among the 900 million or so owners of cell phones. She is now thinking about buying a personal computer, a purchase that would make it a little easier to troll the Internet and converse on Facebook.
She loves the latter, as do many other Indians. To wit, since Facebook put its first employee in India in 2010, the number of Facebook users in India has soared from 8 million to over 60 million people.
India is one of the largest markets in the world for Facebook, but think of the upside: India is home to 238 million young people between the ages of 15 and 24, a cohort that equates to the fourth-largest nation in the world, Indonesia.
Hence the future demand for cell phones, computers, social media, e-commerce and the like is almost limitless. To this point, personal consumption expenditures in India topped $1 trillion for the first time in 2011, roughly triple the level of 2000.
Due in part to low penetration rates in India, Internet use in the developing nation remains below the levels of the developed nations. But that is poised to change over the next few years and decades.
With more and more Indian consumers emerging like Seema — better educated, opting to live in cities, bound and determined to enter the labor force — the Internet revolution, to a large degree, has really just begun.
Seema is very excited about the future and can't wait to finish her studies to jump into the labor pool and earn money. Her aspirations and material desires are almost boundless, as are those of many her age in India and around the world.
More on this topic